What We Do
We provide Oven Cleaning in Glasgow and surrounding areas. These are just some of the common things we clean.
Single & Double Oven Cleaning

Fridges/Freezers/Microwaves etc

Fast, safe and eco-friendly
Why Choose Diamond Oven clean
Diamond Oven Clean is a family run business providing you with a very personal & professional service. With nearly 10 years experience in the oven cleaning industry, we know all about hygiene and the importance of having clean ovens and appliances.
Cleaning your own oven isn't the nicest of jobs, that's why you should use our Oven Cleaning service. Fast, safe and eco-friendly. We'll make your oven look like new in 2 hours.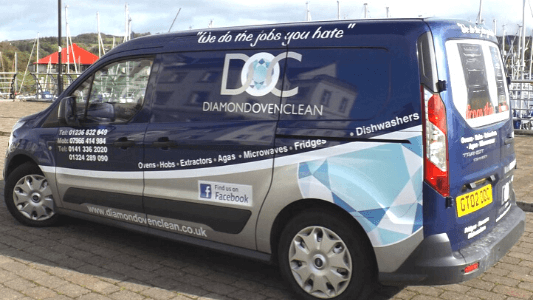 Get Your Free Oven Clean Quote
Our oven cleaning service will make your oven look like new
Oven Cleaning Glasgow & Beyond
We'll clean your oven for you in the following areas.
We Serve Glasgow and the following areas
Glasgow, Lanarkshire, Renfrewshire, Inverclyde, Dumbartonshire, Stirlingshire, West Lothian and more.
Hours of Operation
Mon - Fri:  8am - 4pm
Sat & Sun:  8am - 12pm
Glasgow & West Coast:  0141 366 3030
Cumbernauld & Stirlingshire:  01236 832849
Falkirk & Lothians:  01324 289090
Mobile (text us):  07966414984
What Our Customers Say
Just some of our happy customer's reviews