Professional Oven
Cleaning Glasgow
Affordable, reliable and professional oven cleaning in Glasgow and surrounding areas.
We take the hassle out of looking after your oven with our 2 hour clean.
What we do
We provide Oven Cleaning in Glasgow and surrounding areas. These are just some of the common things we clean.
Oven Clean Results
Have a look at our previous oven cleans

2 Hour Oven Clean
Our expert oven cleaner will visit your home and clean your oven/appliance within 2 hours.

Fixed Prices
We believe in charging fixed prices for our oven cleaning services. No nasty hourly rates here.
Fast, Safe & Eco-Friendly
Our oven cleaning is performed by our experienced, professional technicians using eco-friendly methods.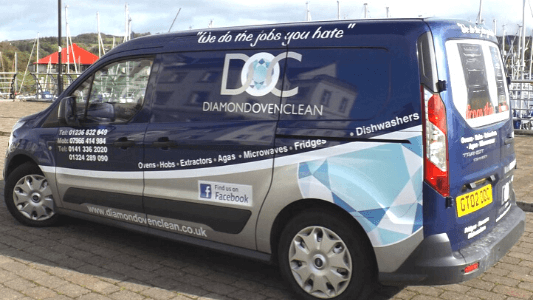 Why Choose Diamond Oven clean
Diamond Oven Clean is a family run business providing you with a very personal & professional service. With nearly 10 years experience in the oven cleaning industry, we know all about hygiene and the importance of having clean ovens and appliances.
Cleaning your own oven isn't the nicest of jobs, that's why you should use our Oven Cleaning service. Fast, safe and eco-friendly. We'll make your oven look like new in 2 hours.
Get Your Free Oven Clean Quote
Our oven cleaning service will make your oven look like new
Oven Cleaning Glasgow & Beyond
We'll clean your oven for you in the following areas.
We Serve Glasgow and the following areas
Glasgow, Lanarkshire, Renfrewshire, Inverclyde, Dumbartonshire, Stirlingshire, West Lothian and more.
Hours of Operation
Mon – Fri: 8am – 4pm
Sat & Sun: 8am – 12pm
Glasgow & West Coast: 0141 366 3030
Cumbernauld & Stirlingshire: 01236 832849
Falkirk & Lothians: 01324 289090
Mobile (text us): 07966414984
What Our Customers Say
Just some of our happy customer's reviews
Excellent Service
★★★★★
"
Excellent service from start to finish. I had a very prompt response to my enquiry via the website, Janice was so friendly and helpful in the phone, Graeme arrived bang on time and got stuck in to my badly neglected ovens. The appliances really were in a state, now they genuinely look like new. I'm particularly impressed by the absence of any nasty smells, no toxic cleaners are used. Everything was tidied up and debris taken away, leaving the whole kitchen in a much better state. I'll definitely use Diamond again.
"
Wonderful Job
★★★★★
"
Moved into my flat last week and was horrified by the state of the oven. Diamond OvenClean did a wonderful job cleaning it today and it looks like a new oven. Thanks again.
"
Completely transformed it
★★★★★
"
Having a new kitchen fitted and the oven was only bought last year…. So I decided to look up cleaning companies. I looked at diamond clean and was very impressed by their reviews so I booked them. Came out exactly the date and time…. Worked away on my hide and slide oven and completely transformed it! Very friendly and professional service with top class results… even my kitchen fitters took some flyers as they couldn't believe it was the same oven… it looks brand new! And a fabulous price too!
"